Here we are 3 months after I launched my mvp, let's start with the good news, I currently got more than 1700 users. Really cool if you think I am doing marketing just by myself and I feel like one of those digital marketing experts.
If you followed last posts you know that Google Chrome is a big part of that users count success, I have been at the top of the lifestyle category for 2 weeks and got more than 1100 chrome users. Two nice things in relation to that. First they use chrome, I code the app with chrome, that mean they get the best experience they can have. Two, if they install it they really want an online wedding planner and it cost me zero to get those users.
Advertising
I tried to make the best from my Facebook (100$) and Google (75$) coupons. Ultimately it seems like facebook created more opportunities, probably because it is much more drilled down.
Facebook
With facebook I was able to target directly a god chunk of my main audience (200 000 persons):
who live in one of the countries: United States, Canada or United Kingdom ** Wanted primarily english speaking people
between the ages of 19 and 59 inclusive
who like #American Wedding, #Wedding, #Wedding dress, #Wedding photography, #Wedding planner or weddings
who are engaged
36 000 saw my ads, on this I got 222 clicks for an average of 46 cents per click. There are a lot of articles on the web on how to got a low cpc with facebook ads, unfortunately it did not work for me, having a cpc below .4 proved to be really difficult no matter how I drilled down in my audience.
Adword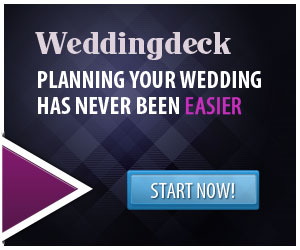 First thing I did is create some banners because I really do not believe in text ads, specially when you do not pay premium to be the first one. I preferred trying to build the WeddingDeck name.
I had some good results with those banners. I got an average of 20 cents per click, for 80 bucks I got a whopping 154,619 impressions.
Small word about the Weddingdeck brand
One interesting pattern is that quite a bit of people searched weddingdeck on google. In total 60 searched directly weddingdeck on google, 40 when my ads were active and 20 after that. One thing is I still do not have a professional looking logo (working on that) and my ads are just ok. That will have to do as I do not want to invest more money for now.
Organic search is not working currently
I pride myself as being a good front-end developer, that include good knowledge of SEO – a little of which I also gained from good services like Sirlinksalot. Seems I will have to work a bit on that, since I only got 180 visits in 2 months from organic searches. One thing is that the wedding market is not only crowded with good websites, it is filled with websites with dump content and tons of ads. So trying to create a breach is hard. I am focusing on 3 keywords specifically "online wedding planner".
It seems to be somewhat working, I got 7 hit from those keywords in the last 2 days ans I am on the second search result page. I will try to ramp this up in the future.
Pushing the product
After the initial push on the tech community I kind of got back to focus on the product, meaning I do not push it at all. Working on a project alone is hard (harder than I tough). But frankly getting a cofounder you can trust, that will share your vision, and will work as much as you are is probably as hard. The product is also "a small idea". I do not try to break the next frontier I am just trying to do a useful saas. Meaning there seem to be less opportunities.
As for the new features in 3 months, I added songs list built with iTunes, revamped the public pages and added a seating charts. Of course there was also a ton of bug fixes.
Competitors
Looking at the competition, they all seem to be doing all round stuff in wedding (best example theknot.com), meaning: blogs, shops, online softwares and etc all on the same name. It's not hard looking at the pattern to see why, people looking at wedding articles will probably love discounted wedding stuff, and free software helping them to manage their event.
Following their idea I bought, freshlymarried.com (would be a online magazine) and geniuswedding.com (would be an affiliate store a la pinterest). Yeah I kind of got of track a bit there :P.
I still think that specially freshlymarried.com could have a nice conex use for driving traffic to weddingdeck. I was thinking about a rev share model where I would give back 60% of the ads revenu with the authors on their article pages. That would be a way to get mommies at home on board, provide an easy platform where they can blog about there experience on being married and their family life. Only problem is to find those mommies.
I also always wanted a shopping tab in weddingdeck, but the more I think about it, the more I think it needs to be it's own experience. That's where geniuswedding.com comes into play, there is a lot of cool offering on the web for wedding product, but generally their online stores suck, I would try to create a better experience using a UI similar to pinterest and make money from the affiliate commission.
What's Next
Features wise I think Weddingdeck is there. There always more stuff you can add of course (gift registery, online rsvp, etc), and I would probably need to extend the Reseller dashboard.
I will be next implementing moneytization, meaning it's not going to be free anymore for couples. Reseller platform will stay free until I feel it is ready to be made paid. After that I will probably be working a bit on geniuswedding.com and freshlymarried.com
So that was a good roundup of my 3 first months, next one will probably be at the 6 months mark!